Media Release
Australian and Thai universities launch new two-degree program to develop talent in age of global disruption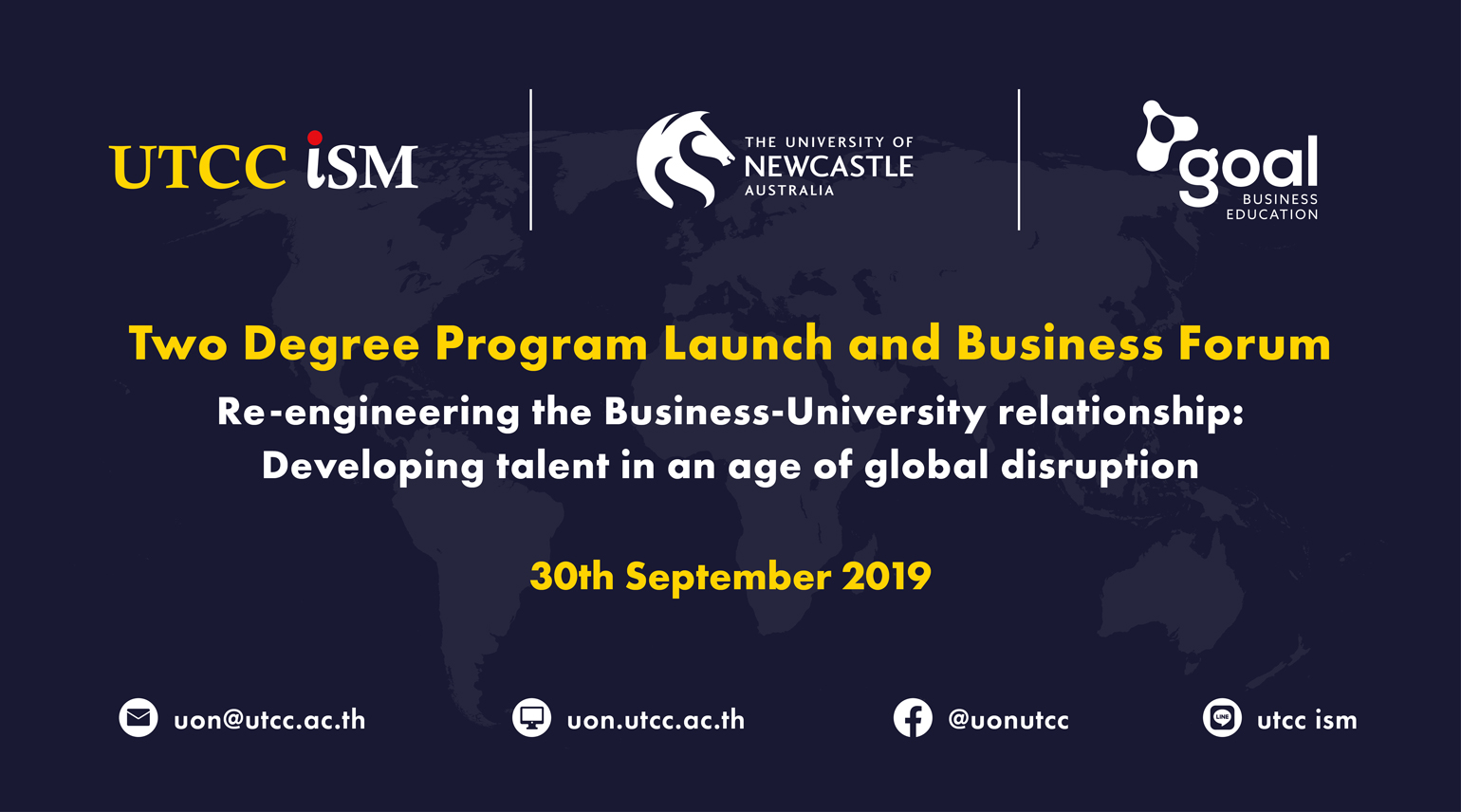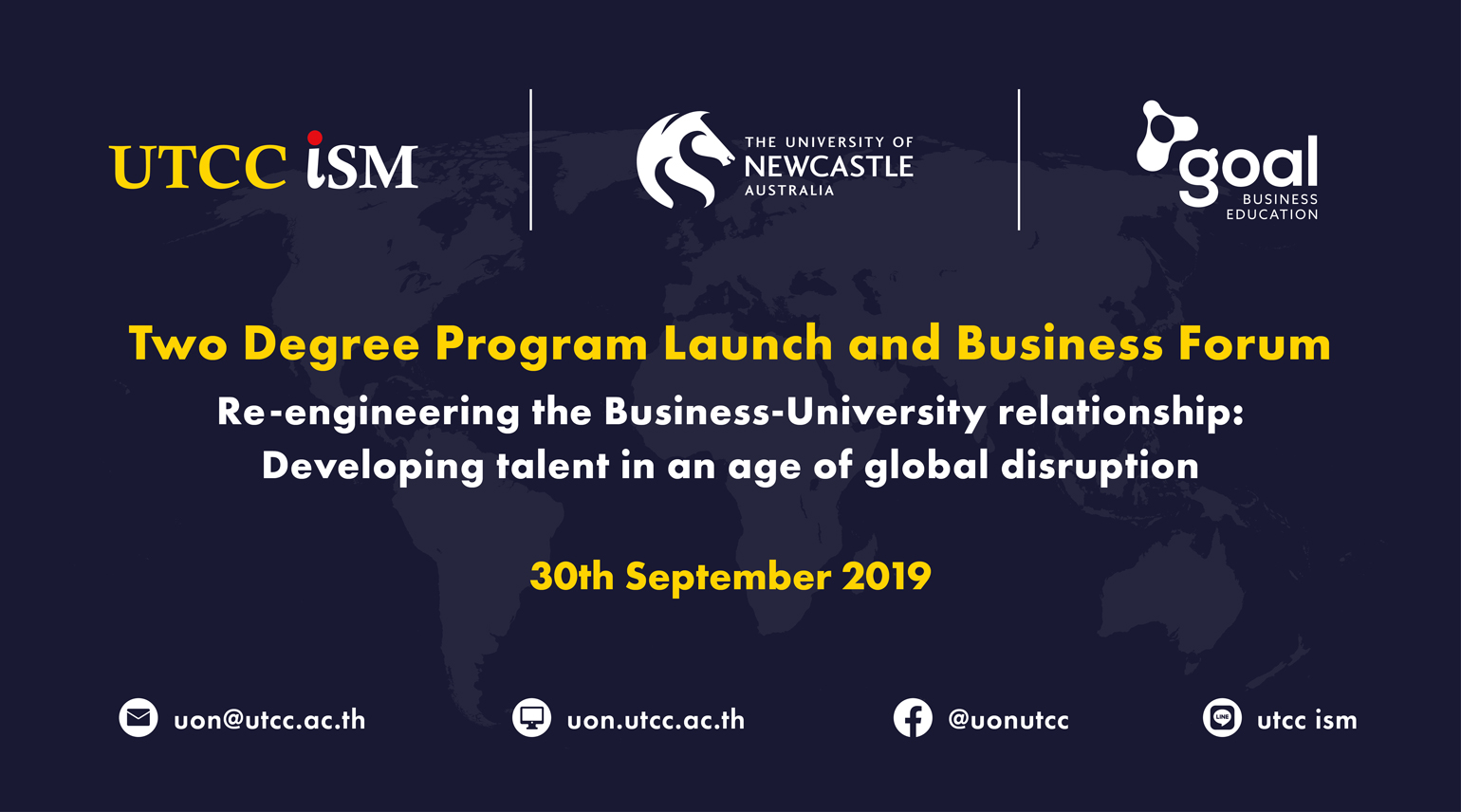 [unex_ce_button id="content_v5aszf6na,column_content_q36m34boq" button_text_color="#000000" button_font="regular" button_font_size="15px" button_width="full_width" button_alignment="center" button_text_spacing="2px" button_bg_color="#f45151" button_padding="15px 60px 15px 60px" button_border_width="0px" button_border_color="#f45151" button_border_radius="0px" button_text_hover_color="#ffffff" button_text_spacing_hover="2px" button_bg_hover_color="#d63540" button_border_hover_color="#d63540" button_link="https://nurturehighered.com/news-and-insights/" button_link_type="url" button_link_target="_blank" has_container="" in_column="1"]BACK TO NEWS & INSIGHTS[/ce_button]
MEDIA RELEASE
UNIVERSITY OF NEWCASTLE
UNIVERSITY OF THAI CHAMBER OF COMMERCE
NURTURE HIGHER EDUCATION (UK)
DATE
30/09/2019
 
The University of Newcastle, University of the Thai Chamber of Commerce and Nurture Higher Education (UK) today announced the launch of a two-degree program in Bangkok, enabling students to earn a degree from each university without studying abroad and attend graduation ceremonies in two countries.
The new degree is the first venture of its kind for an Australian university in Thailand and will see students study business and commerce subjects and receive bachelor degrees from both universities through completing one program of study delivered entirely in English at the International School of Management, UTCC Bangkok campus.
 
Students will have the benefit of being able to complete an Australian degree in Thailand, saving them time and expense, or be considered for transfer to the University of Newcastle's Australia or Singapore campuses at any time with full recognition of prior studies.
 
The University of Newcastle Vice-Chancellor, Professor Alex Zelinsky AO, said the exciting new venture allows students in Thailand to access a Newcastle education experience of the same high quality as that offered in Australia and Singapore without having to leave Thailand.
 
"We expect that the program will prepare students well for careers in the dynamic Thai economy and help to stimulate business between Australia and Thailand and intra-regional trade in ASEAN," said Professor Zelinsky.
 
"It is wonderful that the current intake of students on the two-degree programs not only represent great talent potential and nationality diversity, but, significantly, 15 of the 27 are the first in their family to go to University."
 
Associate Professor Dr. Sauwanee Thairungroj, President of University of Thai Chamber of Commerce, said the partnership reflects a continuing commitment to produce the next generation of talent for industry by giving students the world class standards and recognition they deserve. 
 
"This partnership is a fantastic example of the University working in collaboration to achieve global impact. Our collective aim is to reach and develop talent for industry like no other university in Thailand and this partnership will help us meet that agenda with a set of partners who share our mission and passion," said Associate Professor Dr. Sauwanee Thairungroj.
 
Stephen Healy, Co-Founder and Managing Director of Nurture Higher Education Group and the Goal Business Education initiative, said: "We are delighted to be working with UTTC and the University of Newcastle in our inaugural project."
 
"The diversity of our first student cohort, with students coming from Thailand and the surrounding region to countries as far as Sweden, South Africa and Canada is a testament to our vision of creating a global community of students.  And through this partnership, achieving better outcomes from business education for students who would not traditionally be able to access study abroad opportunities."
 
The program was launched at a forum on the theme of developing talent in an age of global disruption in Bangkok today, attended by Professor Zelinsky, Associate Professor Thairungroj, President of University of the Thai Chamber of Commerce, the Australian Ambassador to Thailand, Mr Allan McKinnon PSM, and representatives from the Australia and Thailand education and industry sectors.
ENDS/
******
Contacts
For more information and to arrange an interview please contact:
University of Newcastle
Anita Harvey – Communications Officer | anita.harvey@newcastle.edu.au | +612 4985 4387
University of the Thai Chamber of Commerce
Pitchpatu Waiyachote – Assistant to President for Marketing Communication and International Relations | pitchpatu_wai@utcc.ac.th | +66 92 262 2729
Nurture Higher Education
Sian Healy – Executive Manager, Communications | sian.healy@nurturehighered.com | +44 7766118652
About the Two Degree Program
The Newcastle-UTCC Two Degree program is a course of study held over four years that leads to:
a Bachelor of Business Administration awarded by UTCC and a Bachelor of Business awarded by The University of Newcastle

, or

a Bachelor of Accountancy awarded by UTCC and Bachelor of Commerce awarded by The University of Newcastle

.

The program is taught in English and delivered entirely at the UTCC Bangkok campus. Teaching will begin in January 2020.
Admission is open to eligible Thai and foreign citizens. Twenty-seven students from eight nationalities have already submitted applications for the program including students from Thailand, Sweden, Canada and South Africa.
Find out more at www.newcastle.edu.au/utcc and https://uon.utcc.ac.th/
About the University of Newcastle
The University of Newcastle is dedicated to outstanding education and research. Currently ranked 207th in the world by QS World University Rankings, the University is consistently ranked within Australia's top 10 universities. Degrees are shaped around global learning, work placements and entrepreneurial opportunities.
The University of Newcastle has a long history in providing offshore teaching in ASEAN. The university's teaching presence in Singapore began in 2006 and has graduated over 5,000 students from 39 countries.
About University of the Thai Chamber of Commerce
Founded in 1963, University of the Thai Chamber of Commerce (UTCC), ASEAN's leading university in trade and services with a commitment to creating innovation driven entrepreneurship (IDE), offers innovative entrepreneurship courses to students in every faculty via the digital hybrid learning system. UTCC has been recognized as an Apple Distinguished School for 2015-2020. UTCC has also partnered with Alibaba.com, China's largest online shopping platform, to offer a certificate program in e-commerce for Thai entrepreneurs and UTCC students to create online business-minded entrepreneurs and help them expand businesses to a global level.
About Nurture Higher Education
Formed in January 2017, the Nurture Higher Education Group focuses on the crucial intersection of learners, educators and employers.  Nurture's founders and its global team of experts bring a blend of academic and non-academic expertise from the leadership and operation of world class business schools to the internationalisation of higher education.
Nurture is the creator of Goal Business Education.  Goal Business Education aims to nurture the aspirations of learners and university partners worldwide by creating a global network of universities operating a common business education curriculum for undergraduate and postgraduate awards for students around the world.  The launch partners for Goal Business Education are the University of Newcastle Australia (UON) and the University of the Thai Chamber of Commerce (UTCC).  In addition to the launch partnership in Thailand with UTCC which began enrolling students from August 2019, over the next five years Goal will operate in a further 20 countries.

www.Nurturehighered.com and www.goalbized.com